Renault Logo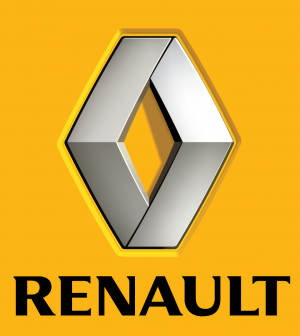 Renault is a famous French automaker company that is producing trucks, tractors, buses, vans, and cars. It is holding the forth position behind General motors, Toyota, and ford due to its alliance with Nissan. Renault owns the Korean automaker Renault Samsung motors and Romanian automaker Dacia. The reason for which the company is so well known is its security technologies, revolutionary designs, and motor racing. The Renault Corporation was founded in 1899; however they are engaged in producing cars since 1898. The c The Company having 128,322 employees is headquartered in Boulogne-Billancourt, France.

In 1990, the logo of Renault began as a medal on which the founder's initials were displayed. The next logo showed the products which the company was selling. In 1906, the logo changed with the representation of the front end of a car. This was done because the company had started a large scale production of its vehicles. In 1919, the car was changed into the image of tank towards the end of World War 1 as Renault started manufacturing tanks at that time.
The logo designer reviews that the logo took a turn after four years, as the design was replaced with a grill which was found generally at the vehicle front. The famous diamond shape logo commonly recognized today was introduced in 1925. And then the highly recognizable color of the logo 'yellow' was added in 1946, which then became their signature color. The latest Renault logo which we see today was published in 2007. It took various modifications over half of the century as for now it is the logo we see as Renault brand image.
If we see the Renault logo, there have been numerous changes made in the logo appearance in the past century.  The logo has been modernized, enlarged and produced in relief, nationalized, circle replaced, and placed warm yellow background. Even with so many logo ideas, Renault has always come up with a memorable logo. 

Design Elements of Renault Logo

Shape of the Renault Logo:
Since 1992, the current shape of the diamond badge is in use. However, the modifications took place in 2004, and 2007. The changes were made in shape of adding square of yellow and clear display of the company name "Renault". This appearance was intended to bring dynamic and modernistic look to the logo.

Color of the Renault Logo:
The Renault logo yellow color represents prosperity, optimism and joy; whereas the silver color stands for creativity and sophistication of the Renault iconic brand.

Font of the Renault Logo:
'Renault Identit' is the custom typeface that is been features in the logo of Renault. In 2004, it was designed by Jean Porchez, French type designer. Previously, the logo used the typeface "Renault MN". British brand consultancy firm Wolff Olins exclusively designed this typeface for the company.