Logos become Outdated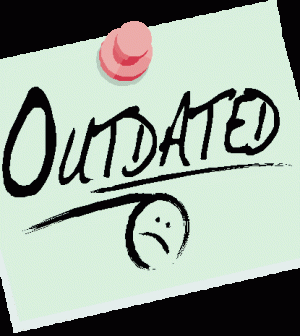 How can a logo become outdated and old fashion when a company is at its peak? Why do such companies redesign their logo risking their brand image and brand identity? In our understanding a logo represents the face of the company, is it alright for a company to change their face to those customers who are associated with you for longest of time.
Logo is part of the visual identity of an institution that combines the graphics and the font. The functionality of a logo is its ability to communicate the message you want, and to achieve this requires the use of colors and forms that contribute to its interpretation. A logo becomes a structure organized graphic semiotic approach that seeks to convey a meaning.
Is it "freshness" or boredom?
Without any strong reason companies would not go through trouble and expense. If this reason incorporates rebranding of the whole company and creating a new image then it is understandable. Boredom comes around when you find your customers see dullness in your image and logo. At times, companies change logos to cater different target market and follow the elements that customer of that time are seeking in your brand. Like todays teenage opt for freshness, colors and creativity. When you see the drastic change in your future market you tend to bring change starting from logos.
Criticism
Companies that change logos get to hear immense amount of criticism regarding logos. There are very less designers and customers who would appreciate the change but is limited to logo. The after effects of logo change are great; it revamps the company's website as well as some systems within the company. Just for the sake of not being criticized, companies do not take initiative. It does not mean that we rule out 'simple and clean' designs. Time has called for drastic change, no company would like to be left behind and named 'outdated' because of their fear.
Is it safe?
What de-motivates companies and keep them away from logo change are the harsh comments that they get after redesigning. To firm, logo conveys meaning. Those who prefer to play it "safe" would depict their unwillingness and ultra-conservativeness. All they need is the confidence to say 'so what?' and react positively. It totally depends on company that how far they would go to change their logo as it's already been 25 years a drastic change is called for.